vitrinize
Things I only begin to GET now that I'm here: street store windows, or more accurately the concept of the VITRINE. Obviously I've seen them before, but somehow once the city streets were emptied out of stores, then even if a random one popped up somewhere along the way - its window felt void, detached, ashamed somehow. Ici, I find myself looking even at the H&M vitrine, and it's because I feel someone's trying to tell me something. This is what we're selling. This is who everyone is looking up to when they're shopping trucs. This is what's going on in the world right now.

It's actually the same with magazines. Never before have I seen magazines as objects that are supposed to tell me something. I have only discovered magazines through washed-up scans in my browser, infinite tabs that are fragmented time and time again. The binding of pages together in a certain order that has its own logic seems pretty sensational.

Alors, it seems that store windows and magazines are news to me! That's like, a hundred and fifty years late to the party, n'est–ce pas? How can an alien actually start knowing what civilization is? Well, here's what I did: I took in my hands Zola's Ladies' Paradise.

"But, as she turned into the street, Denise was struck again by one of the shop windows, which contained a display of ladies' clothes. She had had special responsibility for the clothing section at Cornaille's in Valognes, but she had never seen anything like this! She was rooted to the pavement in admiration. [...] There was something for every whim, from evening wraps at twenty-nine francs to the velvet coat priced at eighteen hundred francs. The dummies' round bosoms swelled out the material, their wide hips exaggerated by large price tags with pins stuck through them into the red bunting round the collars, while mirrors on either side of the windows had been skilfully arranged to reflect the dummies, multiplying them endlessly, seeming to fill the street with these beautiful women for sale with huge price tags where there heads should have been".

This is 1883, mind you!

I'm not sure if the French are seeking for the zeitgeist or they just happen to fall upon it. It's the same with their invention of fashion, how after years of the Spanish holding reigns over clothes-making, The Sun King decided that it's no more a game of strict codes to be paraphrased again and again to perfection - that there should be seasons, and temporality, and change. It's a genius marketing move but it's much more important than that.

In a complete contrast to the windows, I started GETTING curtains. At first I could not grasp how so many of the buildings' windows are always shut - the degree of sheerness vs. atimut may vary, but the principle of "you cannot see what is going on in here" remains. I awkwardly giggled to myself every time I'd walk into the courtyard, seeing how - once more - our window is the only one wide open, without a textile piece in sight. And even though I didn't feel like drawing the curtains, fearing it will suffocate light, minimise the space, when I tried it for the first time a certain peacefulness filled the air. Even more than the absence of the potential outside look, it was about me not being forced to deal with the outside when I'm inside. Borders. Ha. Who knew.

So, there's glass to reflect, paper to tell, fabric to conceal. And what about light?

I've always been fascinated by guirlandes, those massive long chains of sparkling lumières. EVERY GREAT PARTY MUST HAVE A GARLAND, I'm certain of it. The scene I always go back to is the party on Blue is the Warmest Color: there are actually two garden parties in the film, both magnificent to watch. The one at Emma & Adèle's place has the best kind of garland: basic bulbs. SO ELEGANT. The one at Adèle's childhood home has a wreath of colorful balloons, seen from a distance as rainbow-y lights.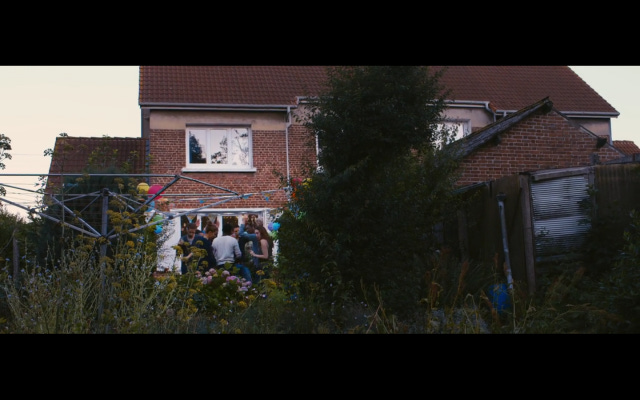 I swear I could watch this scene every day, every night. The monotonous chorus in the background AND THAT RAVE PIANO: this is the what mantras are made of.

I re-watched the movie, bien sur, and the one thing I can't really take my mind of is Adele's skin. Le peau. I've been trying to think about ways to describe it, and then I got why I can't really come up with any: it is real. I have never seen this kind of skin on screen. It is completely life-led, life-driven.

Also, Adèle being a teacher is SO GOOD. I'm finding myself eager to take part in her kindergarten lesson, to soak up the language from that early stage, to be surrounded by it naturally, as an absolute beginner. I, too, want a dictation.