〰️
until the end of the world (1/4)
Once Until the End of the World ends, and the credits - spanning all the five continents where the film was shot in - start rolling, a strange sensation creeps up. For a quick second, it's like you've just watched all the films that were ever made, or will get made. This is how a true, fully realized epos makes you feel.
And so, after you've "seen it all" (HA), how do you take it from there? What comes next? More to the point, what do you watch after you've watched Until The End of the World?
For me, and very randomly so, it was Desk Set. I was there, still exhausted and exhilarated from the other night's Wenders turmoil, and I remember thinking, 'oh, this innocent 50's fun by Nora Ephron's parents must be exactly what I need to get grounded'. Alas, I was surprised to find myself on top of a New York skyscraper with Kathryn Hepburn and Spencer Tracy debating, well, the end of the world.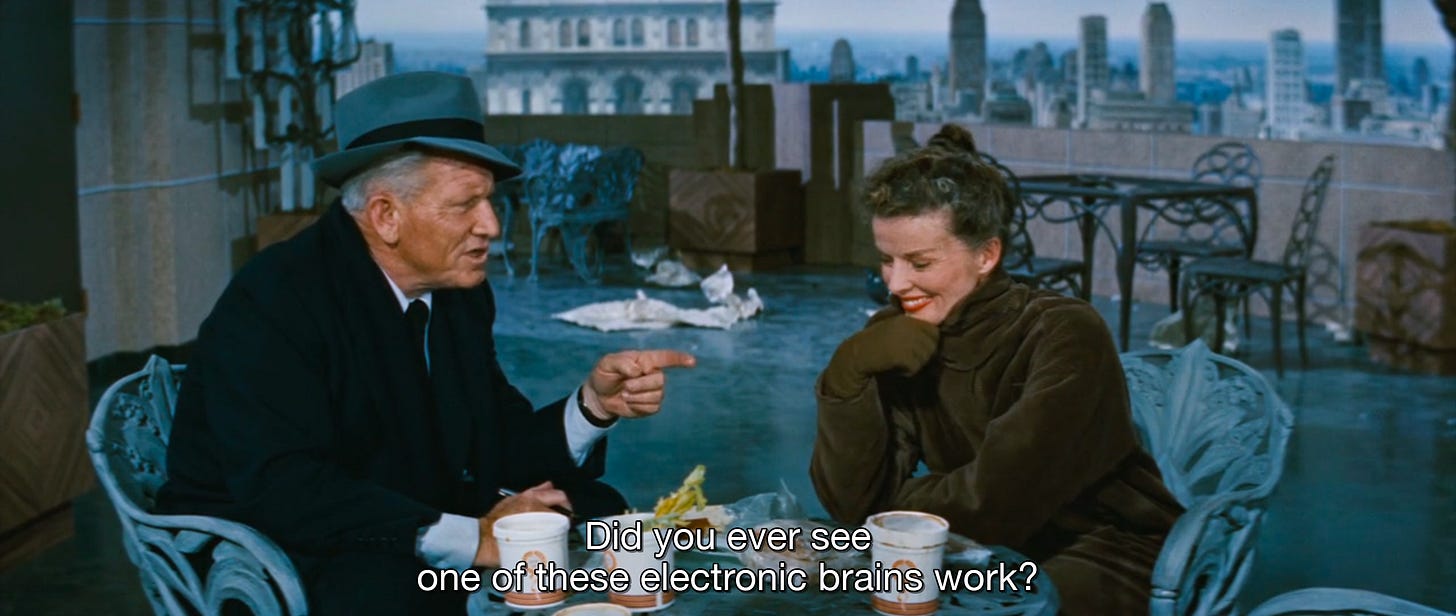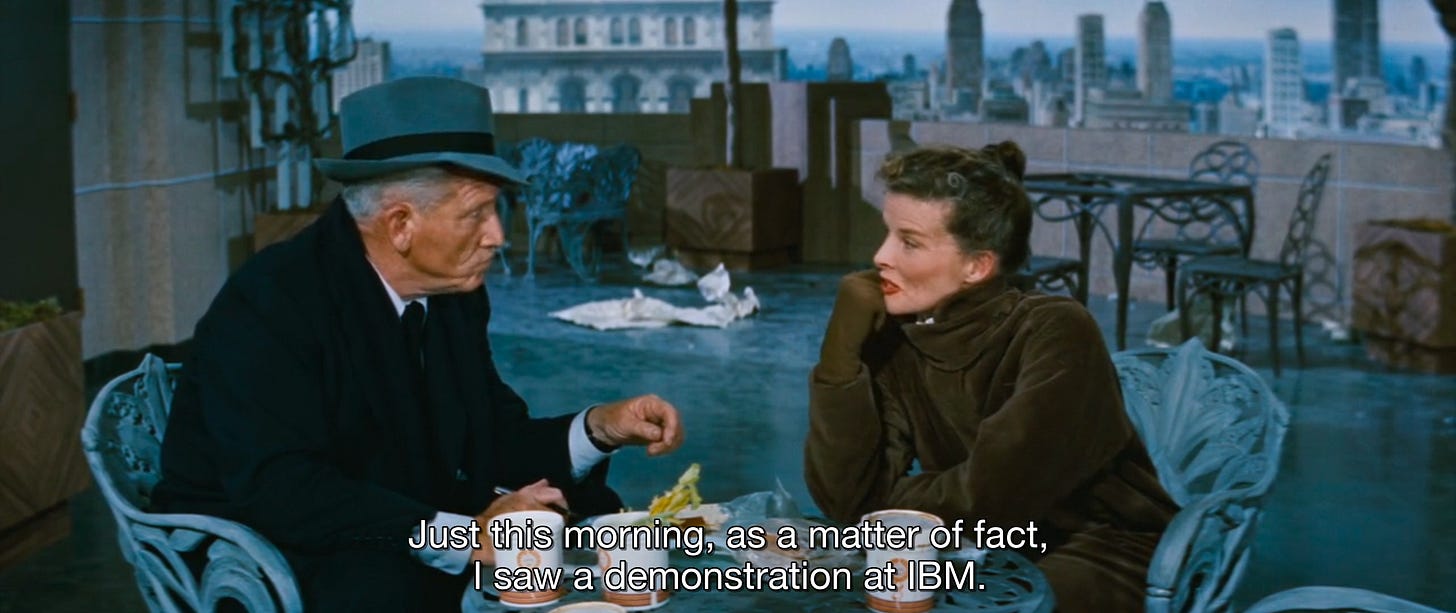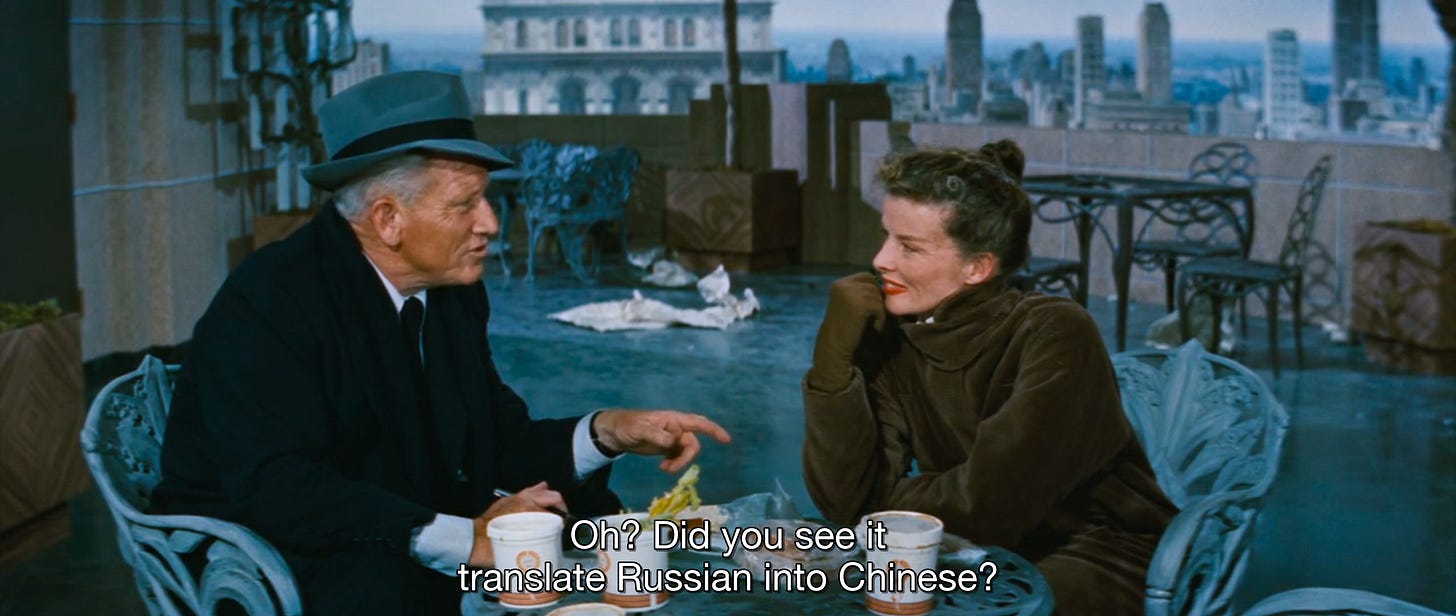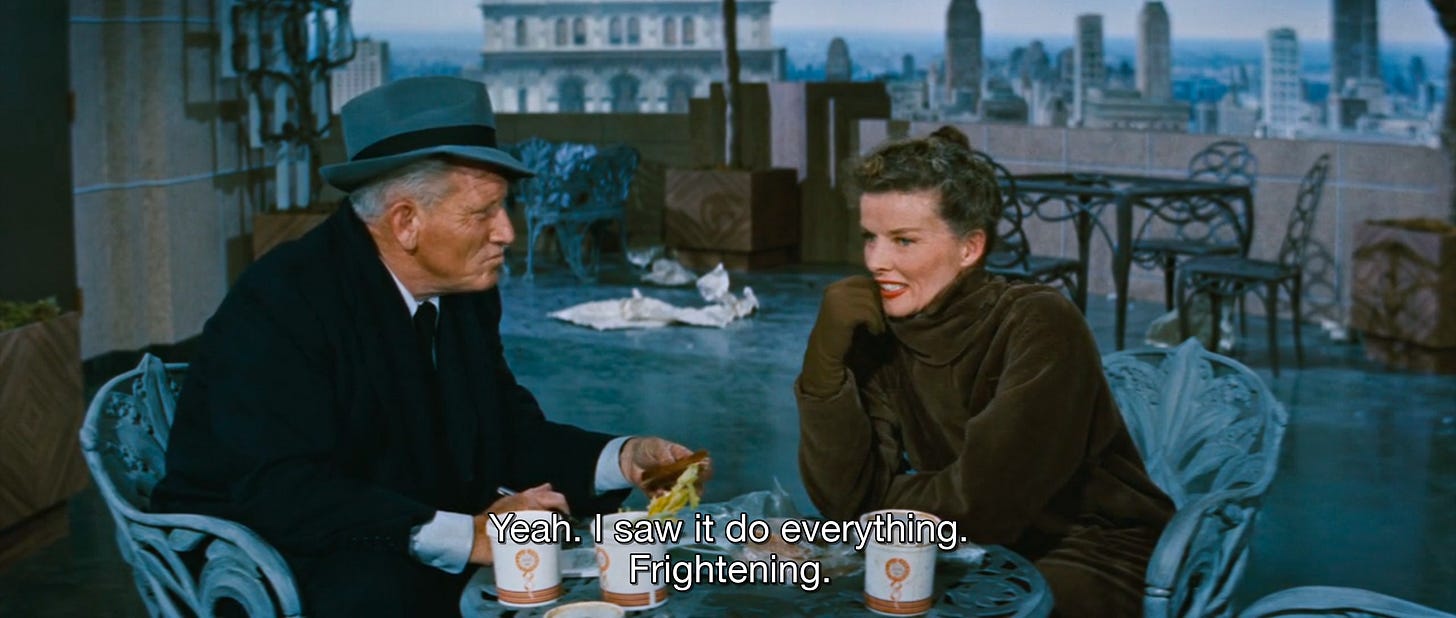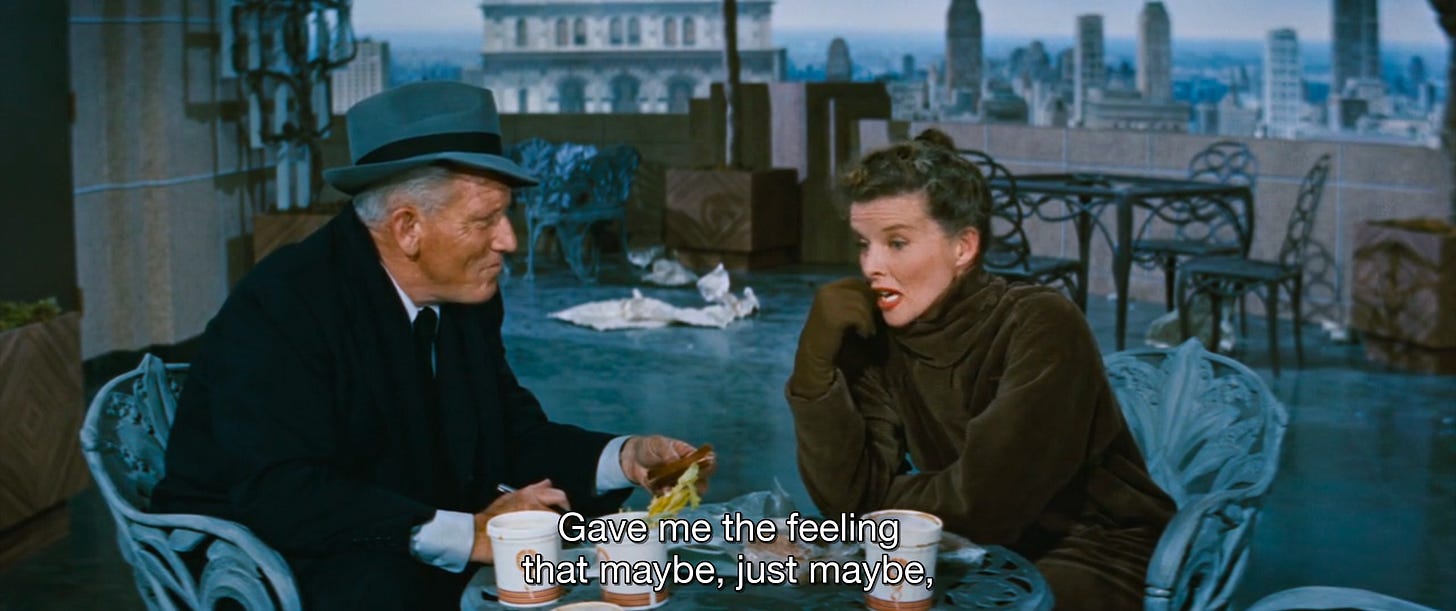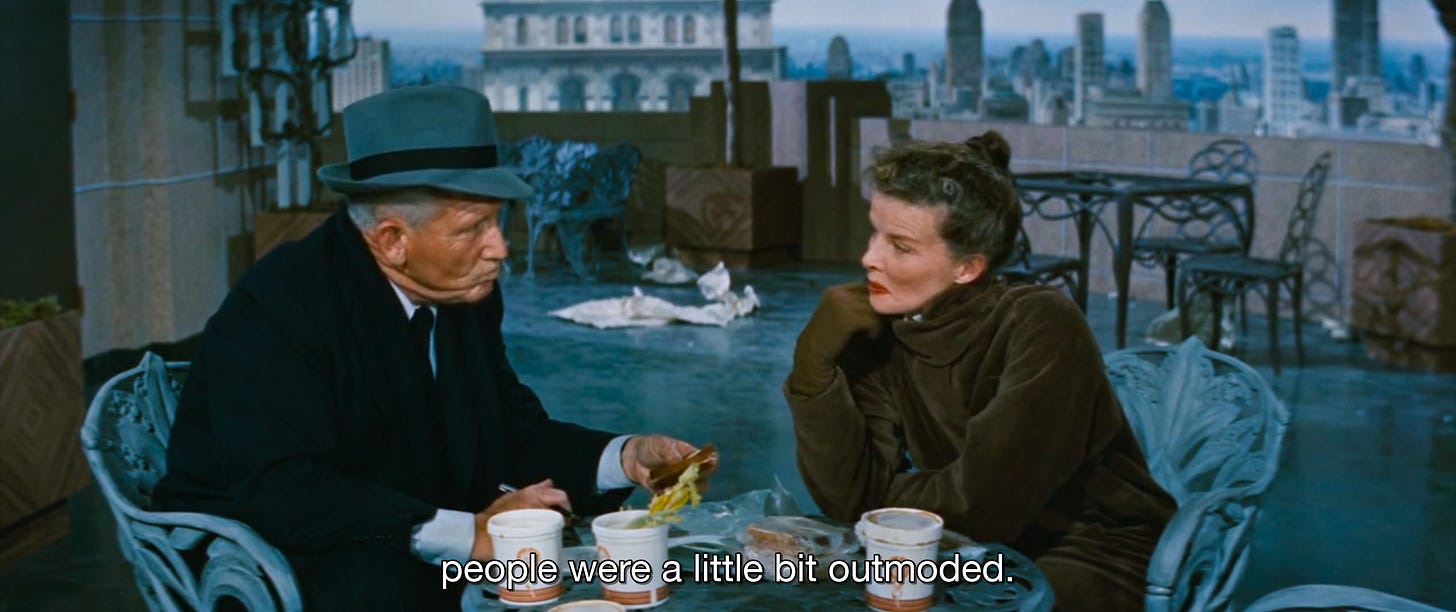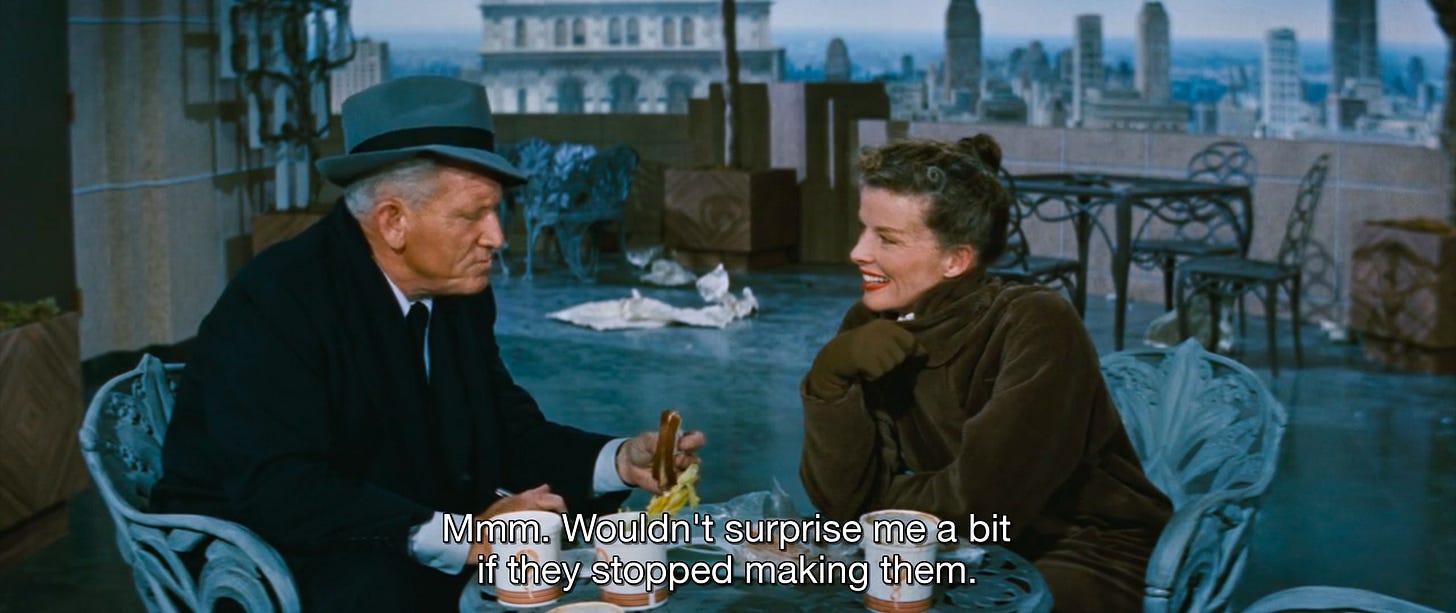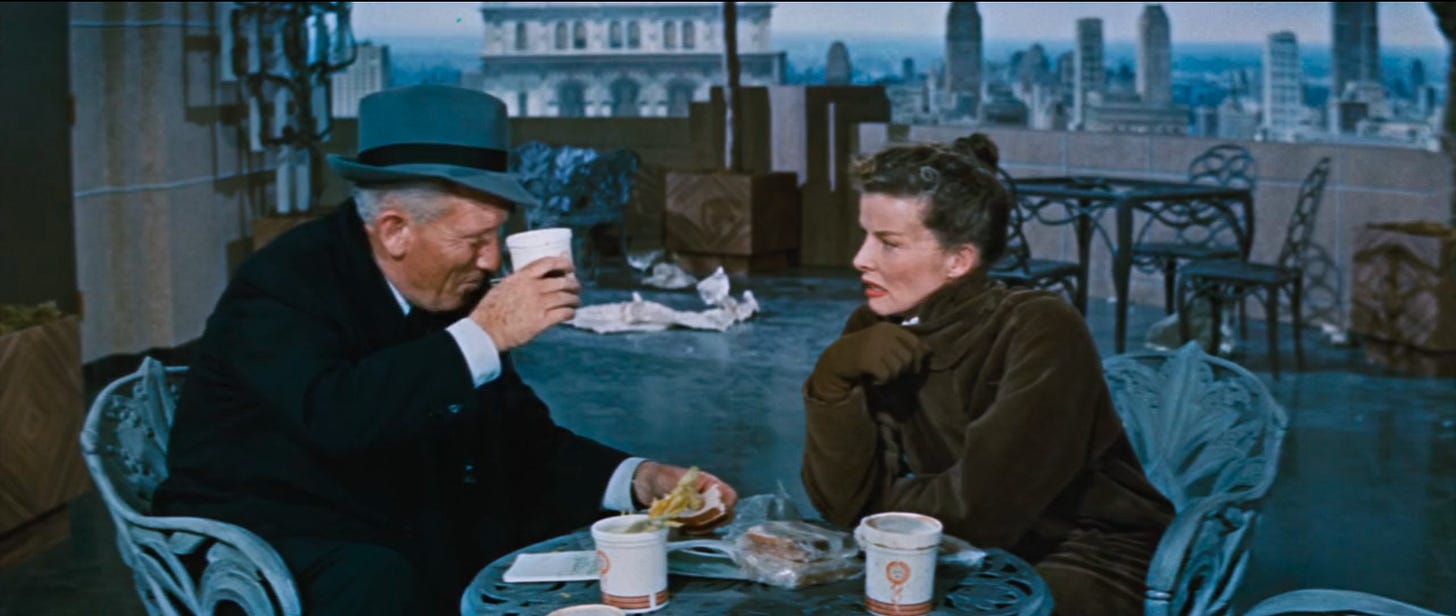 In Desk Set, the first time we see Hepburn entering the frame is when she returns from a midday shopping spree, rushing into the office - the office being "the reference department", a sophisticated unit of smart, curious women functioning as a steampunk version for a prototype human wikipedia. She walks in, wearing a sharp grey blouson and a white cotton chemise underneath, collar upturned. The extreme elegance cannot be missed, yet something in the vision is not completely Hollywood, and a stinging pang unwillingly rises: is Kathryn Hepburn… old?
There are a few things less tragic than the sentence "oh, but you should have seen her when she was young". The uncontrollable urge to see a woman peaking: how sinister.
Jeanne Moreau is about 71 years old in Until the End of the World. She is the mother, the wife, the eyes. One of the ways we recognise the grandiosity of Wenders' achievement is that we do not, for one second, find ourselves compelled to murmur "oh, but you should have seen her when she was young".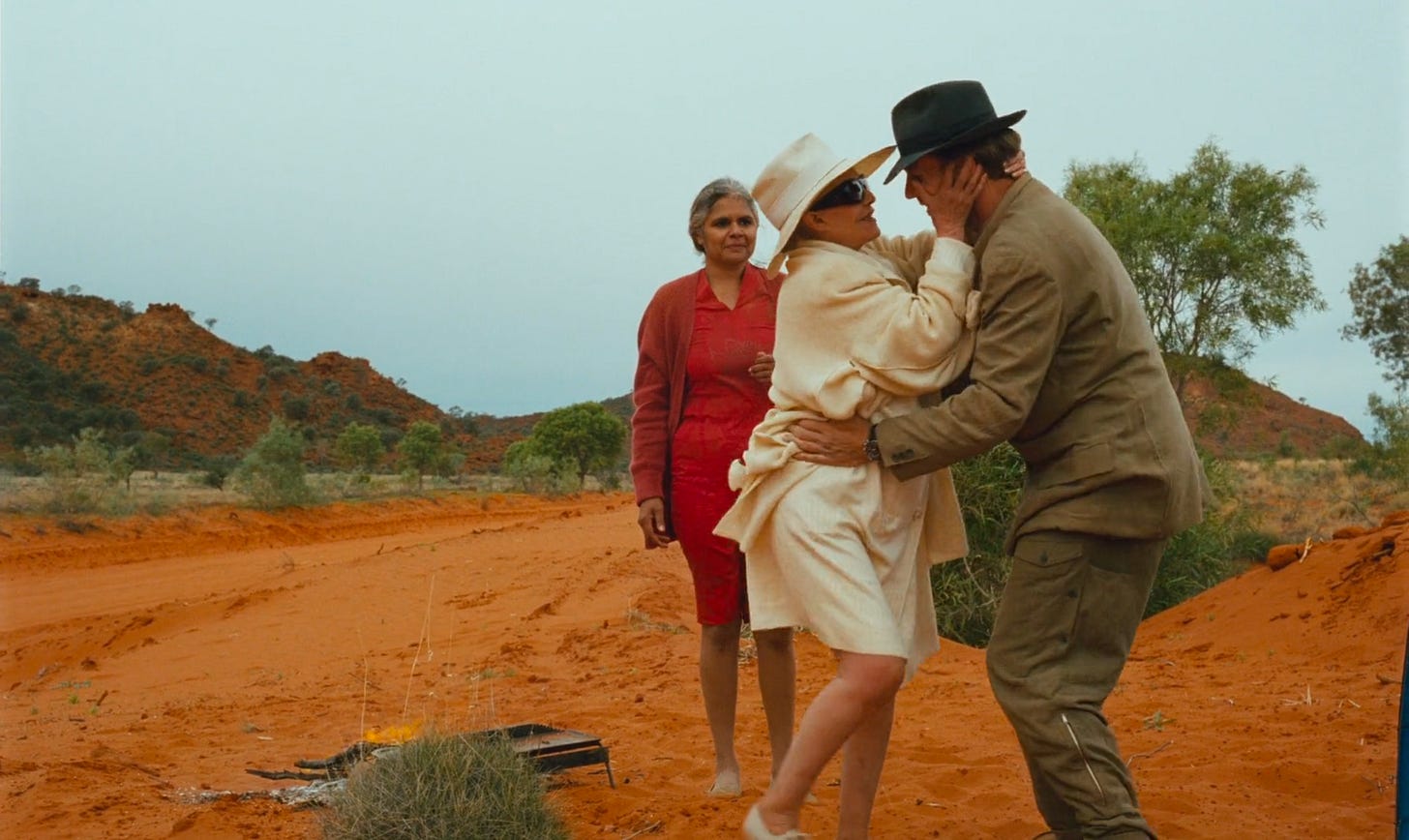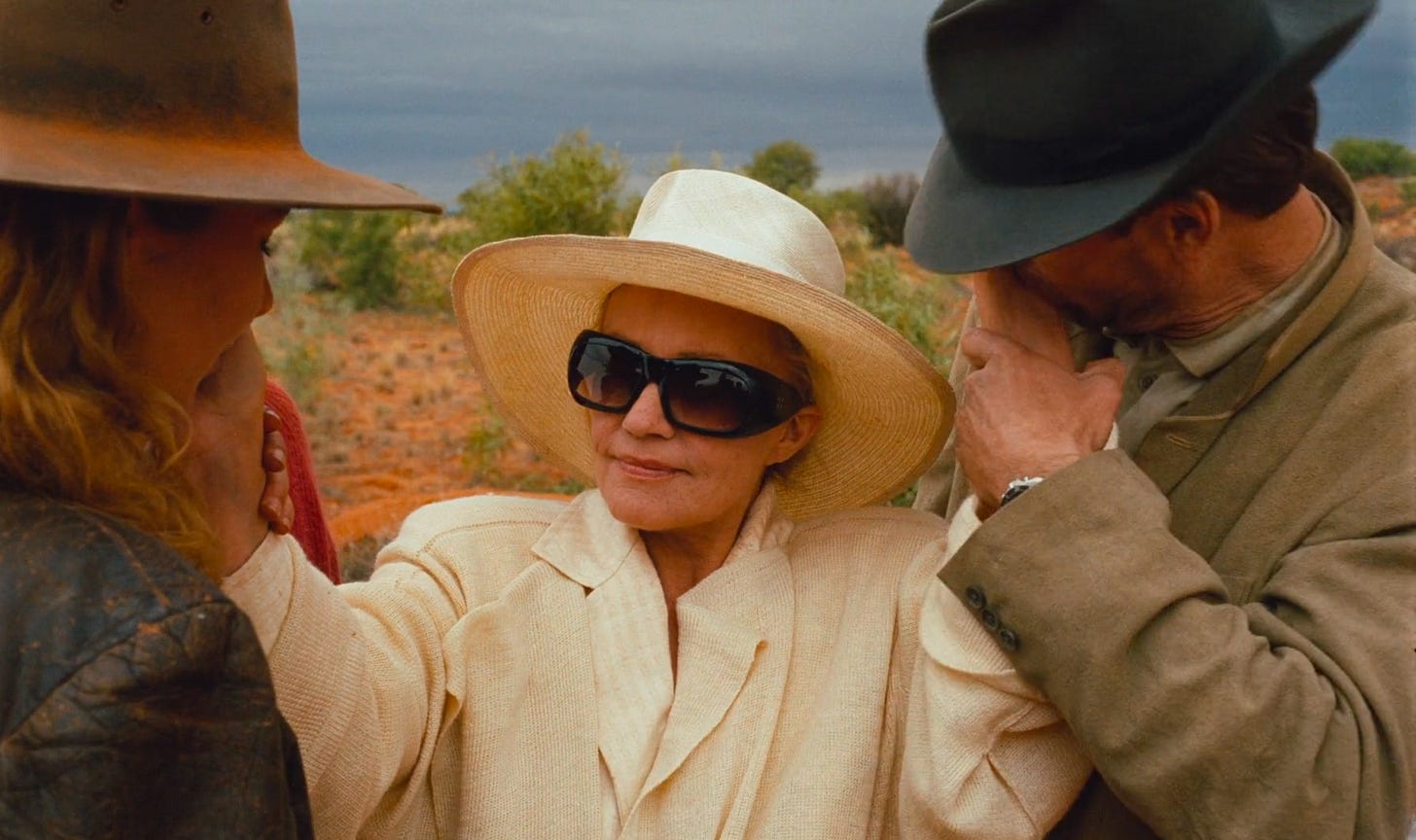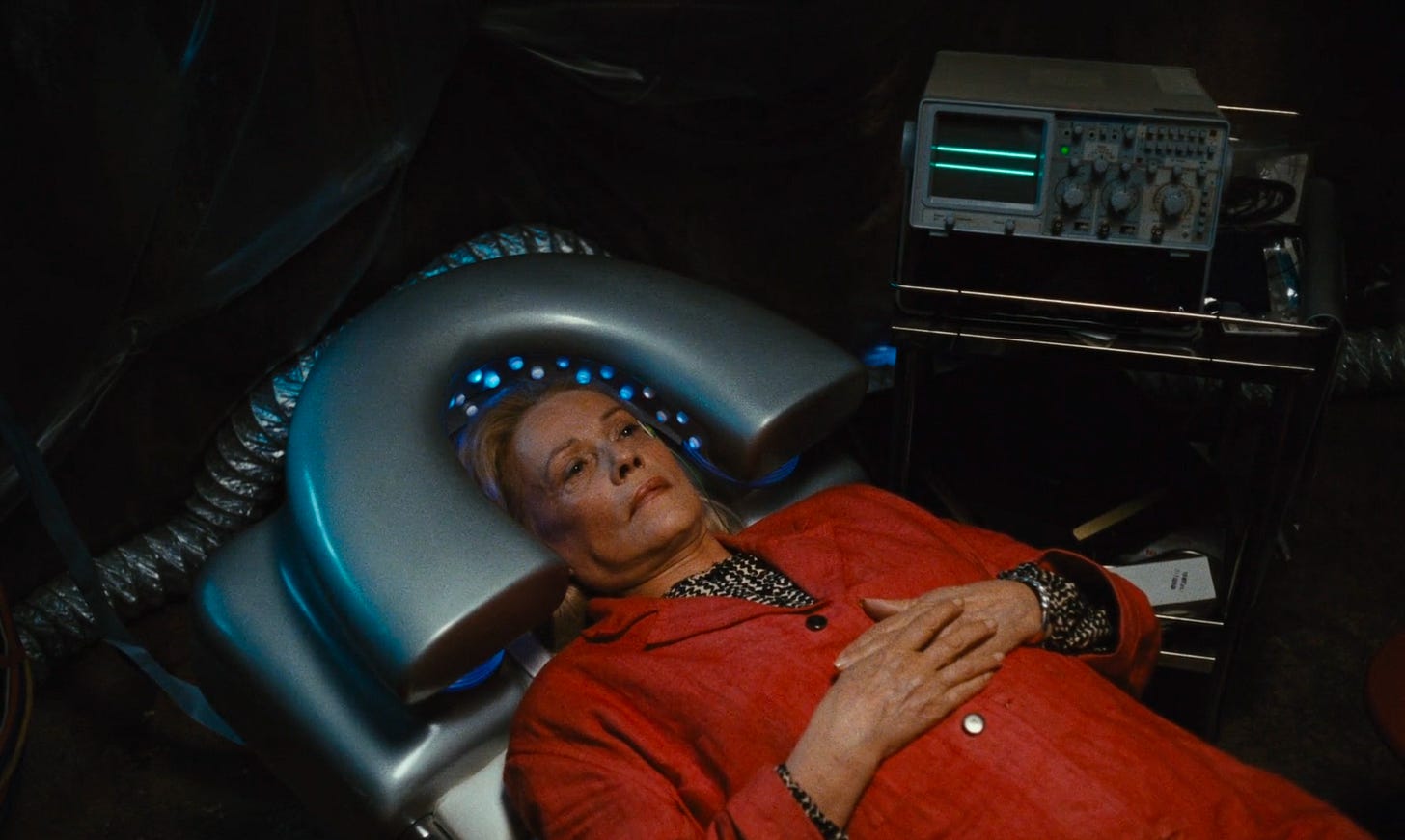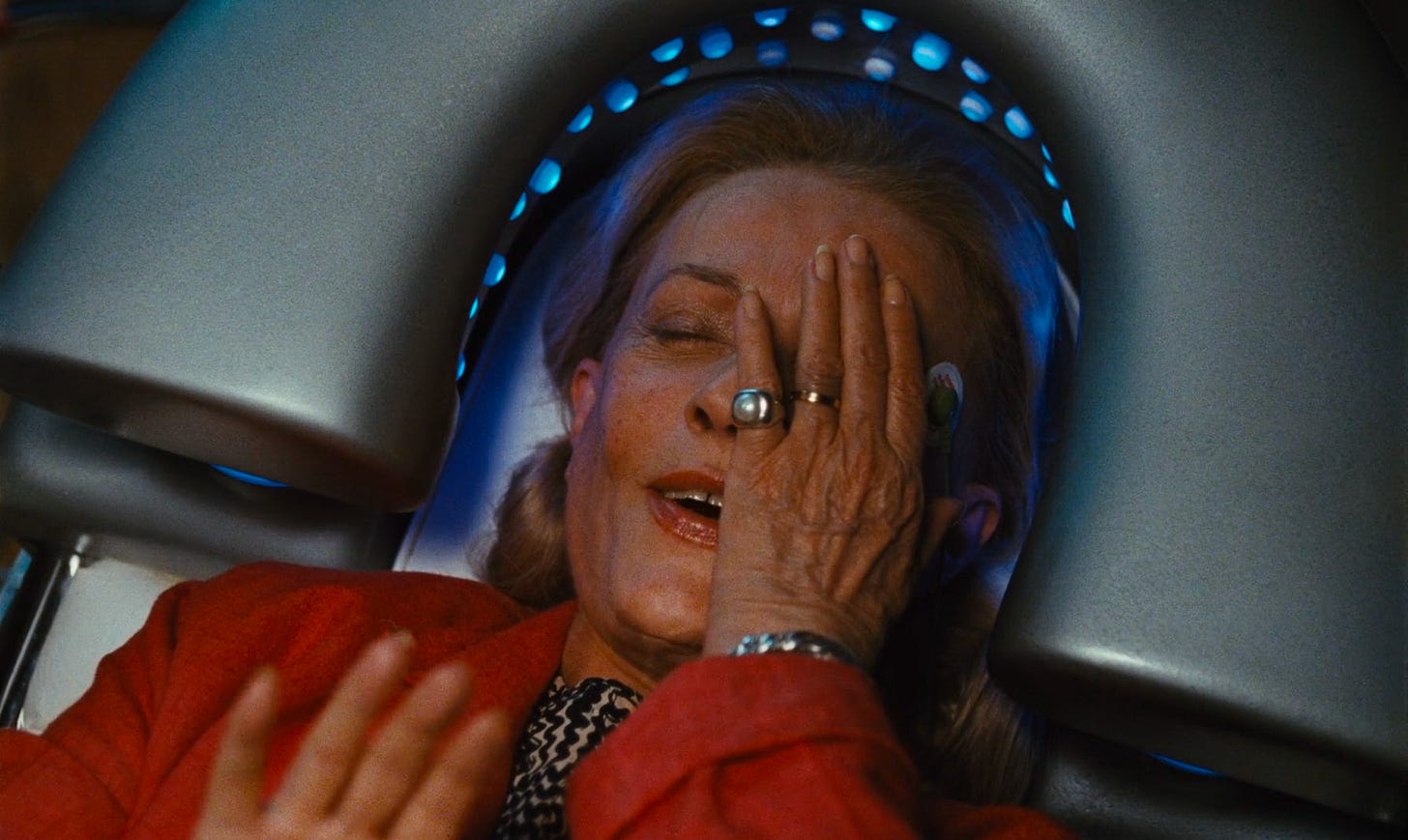 For Hepburn, it takes a few scenes until Tracy gets her out of the office and onto that freezing rooftop, but when they do get there - after we've had the chance to closely examine the wrinkles, the frizzled hair, and everything else that comes with "oldness" - we are habituated, and suddenly get that there's no other place that we'd rather be. More importantly: no other time. The tormenting parallel act - "oh, you should have seen them when" et al - comes to a halt. Takeaway roast beef sandwiches, celery sticks, coffee and two people - not young people - talking to each other. Peaking.
This Sunday morning, Demna Gvasalia showed his Balenciaga œuvre. Walking on water, all the boldness and vitality you usually associate with "youth" was there in full force.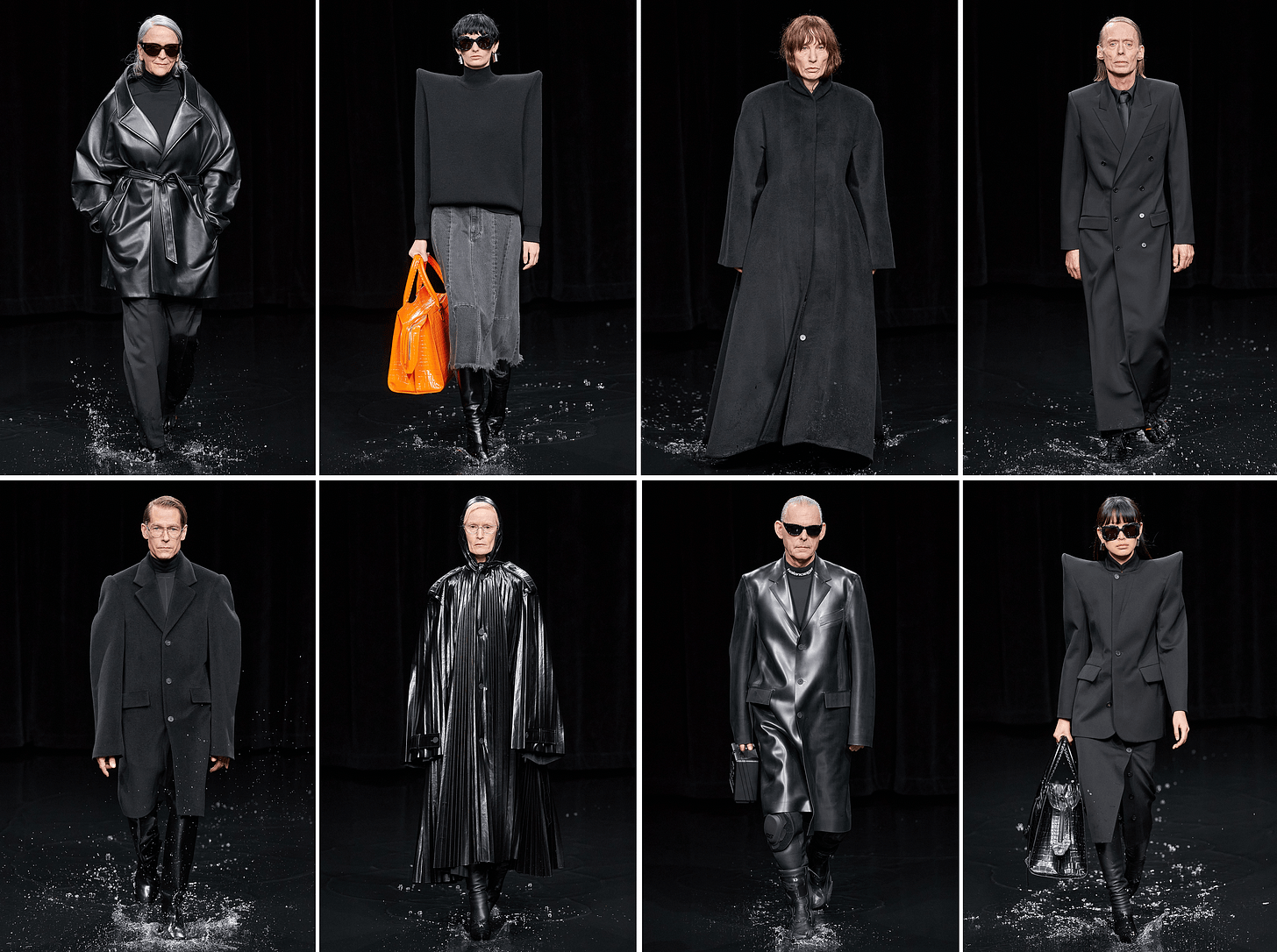 The funny thing is, even though it was a marvellous show, these characters made the majority of clothes-wearers on the runway - "the youth" - seem silly in comparison. Like sketches, or unfinished versions. And so, it's not that people have become outmoded, it's just they really they just need to become people.